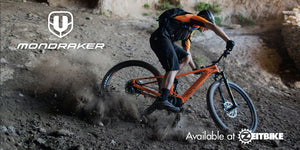 Introducing Mondraker 2020 Bikes - Beauty And Beast in Mountain Biking!
We're excited to introduce the modern, high performing bikes from Mondraker. Mondraker bikes sport enhanced suspension, kinematics, high performance, ultra-modern design, and eye-pleasing colors, that will make heads turn!
Mondraker is an independent specialist mountain bike brand from Spain. The company was started in 2001 with the passion of delivering a mountain bike brand that was above and beyond what was available in the market.
With its Summum Carbon model, Mondraker entered history by winning World Cup Championship in Downhill.
Mondraker keeps evolving with technological and style advantages to challenge and excite the mountain biking crowd.  Here's an overview of the key technical features in the 2020 models:
Forward Geometry was built to give bikers improved handling, stability, and control, in high-speed racing, uphill, or downhill rides.
Zero Suspension System offers excellent benefits like zero power loss, zero pedal kickback, zero brake jack, and zero bumps.
Stealth Design uses smart tube design where different functionality is built into individual tubing to optimize quality, weight and strength.
IST-EVO (Integrated Stem Technology) features a more integrated, lighter, and compact aero style design offering superior rigidity and steering precision than traditional designs.
Avant Geometry features slightly longer top tubes compared to standard geometry, combined with shorter stems to increase safety and confidence while riding downhills, more stability in technical and rough terrain, and improved control overall.
Click the button below to check out the Mondraker 2020 collection!
---